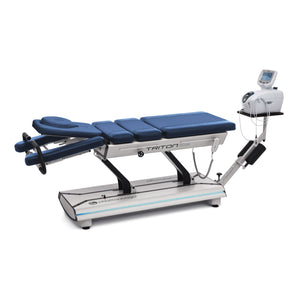 Triton DTS 6E Traction Table
Manual and mechanical traction has been utilized for years as a safe solution in the treatment of spinal conditions involving nerve root compression, acute muscular spasm and osteoarthritic discogenic conditions. However, all mechanical traction devices are not the same.
Chattanooga Triton Traction system sets the standard. With the Triton Progressive Therapeutic Rehabilitation System, Chattanooga has introduced a new generation of innovative traction devices that mimic the intricate nuances of the manual therapist's hands, thereby expanding the features of modern day traction.
Provides maximum patient comfort in prone and supine positions for both manual therapy and traction therapy
Pelvic Tilt section provides flexion of lumbar spine to improve positioning in traction
Pelvic Tilt helps address pelvic asymmetry commonly seen in low back pain patients
Independently controlled arm and chest sections assist in maintaining a neutral spine
Repositional head piece elevates to 35º, allowing easy access to the thoracic and cervical spine
Repositional head piece cradles the patient's head comfortably in prone and supine
Tuck-away, grab bars for prone hanging traction without a thoracic restraint
Gas spring assist on friction-free moveable sections for easy positioning
Adjustable height table from 52 – 104 cm
Removable axilla posts provide additional fixation to the table, preventing slippage during supine traction